I am put in Cohort 19B. Yes the same 19B, which played an important role in 4 years of my college life. A cohort is a group of 6 people, guided by 1 Facilitator. The people in the Cohort are from different regions, culture, languages of India but with a common interest like Energy, Education, etc., All yatris are split into such Cohorts of 7 diverse individuals.
5 jug Sadhana bath
Went super conservative and did time consuming, but water conserving Sadhana Bath with 5 jugs of water. More about it later.
Note: Been taking bath with half bucket water for almost 3 years.
My Cohort 19B
A quick 2 liners on my Team (Cohort)
Shashank
He is our facilitator, an inspiring person. An IIT brain.
He is writing a blog on UPSC training and made more than a whooping 700 posts on the same.
Apart from that he also developed and launched an app for UPSC training, which has crossed 1,50,000+ downloads.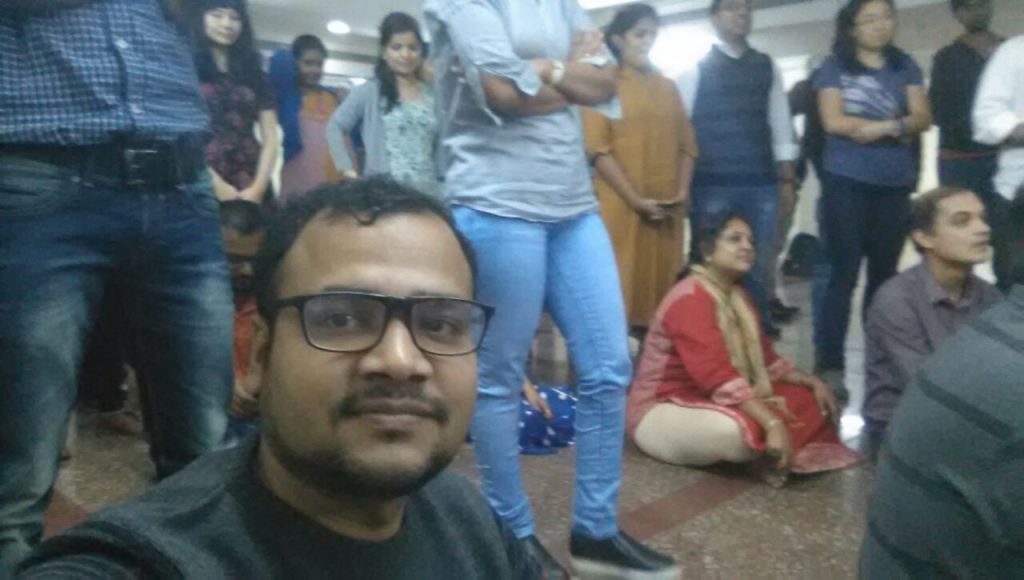 Raju
Professor in a private Engineering college in Telangana.
Met him yesterday during lunch and we already had a Intro about each other.
He is passionate about Nation building and planning to take his learnings form here to his students in College.
He read ALL THE BOOKS of Dr. A.P.J. Abdul Kalam
Arush
An interesting guy from Dehradun, who has quit his job and setup his own Solar farm in Dehradun, with his Dad.
He previously worked with The Energy and Research Insititute (TERI) and his a super genius in many high tech things. Listing just one
He has worked in a Project, where they evolved a Bacteria named Oil Zepper, which eats up Hydro carbons in the Soil, in order to cleanup Oil spills in the large areas on Land.
His another area of interest is Agriculture, we got loads to discuss going forward.
Yash Mehta
An IIT Brain, who is keen on Energy sector.
He is working as a Risk Analyst with McKinsey.
One interesting remark about him is, He looks like Mr. Bean from an angle.
Suhas
He is into Solar panel sector and is from Bihar.
He couldn't speak English and I couldn't speak Hindi. Same applies with Vivek as well.
[TODO: Will update Photo in a day or two]
Vivek
He is working with Goverment of Bihar.
Apart from that he has an super Interesting story.
Story of Vivek – He and his friends cycle every weekend to nearby villages to do Tree plantation
There they plant around 20 tree saplings in People's home, who are interested. Then the maintenance is taken care by the Home owners
They are doing this for a whooping 103 consecutive weeks. Not missing a single week for any Reason. True Inspiration.
Pleasant morning
We were just chit chatting on various topics from
Arush's business and work Experience,
Raju's college
Bitcoin and Crypto ,ofcourse
About Yatra and many more
Then we had lunch, had a Initiation session and teamup up with Girls's group. In the Initiation session, we were briefed in detail about the Code of Conduct, Operational procedures, Do and Dont's. Also met with many new People.
Met a Core member of Yatra, Mr. Swapnil Dixit. He said an amazing 1 liner, which when applied properly 1000s of Innovative enrepreneurial ideas could be evolved. Especially applicable to those who are already on the ground as Non for Profits or NGOs.
Solve a problem with Technology at Scale, which is traditionaly been managed by a Non-profit.
Wow. Wow. Thinking deeply along this lines, I am getting bloody numerous ideas.
Lifeline Exercise
Then we had this interesting exercise called Lifeline exercise. We are to plot our Happiness level in a graph and brief it to everyone else in the Team. It was an very interesting session, only when People briefed their Lifeline in English. Here are the lifeline graphs of everyone from our Team.
[TODO: Update actual Lifeline exercise sheets here]
Arush
Raju
Sai
Shashank
Suhas
Vivek
Yash
And our journey to the tip of Indian sub continent, Kanyakumari along the west coast continues. That's how the Day 2 ended.
For other day experiences, visit the Summary page